SF Counts
role
Product Designer
Fullstack Developer
tech stack
JavaScript
React
Gatsby
Netlify
link
I had the opportunity to work with the City and County of San Francisco to help with their 2020 Census campaign efforts, SF Counts.
Inception
My initial meeting with the project manager answered the main questions about the project goal, scope, and the main target audience that this site would.
For projects like this, I start the process by focusing on content first. The initial draft of the content was provided Google docs, which I digested thoroughly in order, to prepare for the initial concept.
Information Architecture
My goal was to keep the site simple and informative with a clear call to action. A website visitor should know what they're looking at in the first five seconds. I prioritized making the copy clear, direct, and reasonably simple. This site needed to be easy to understand for all kinds of visitors, of varying levels of English and digital literacy.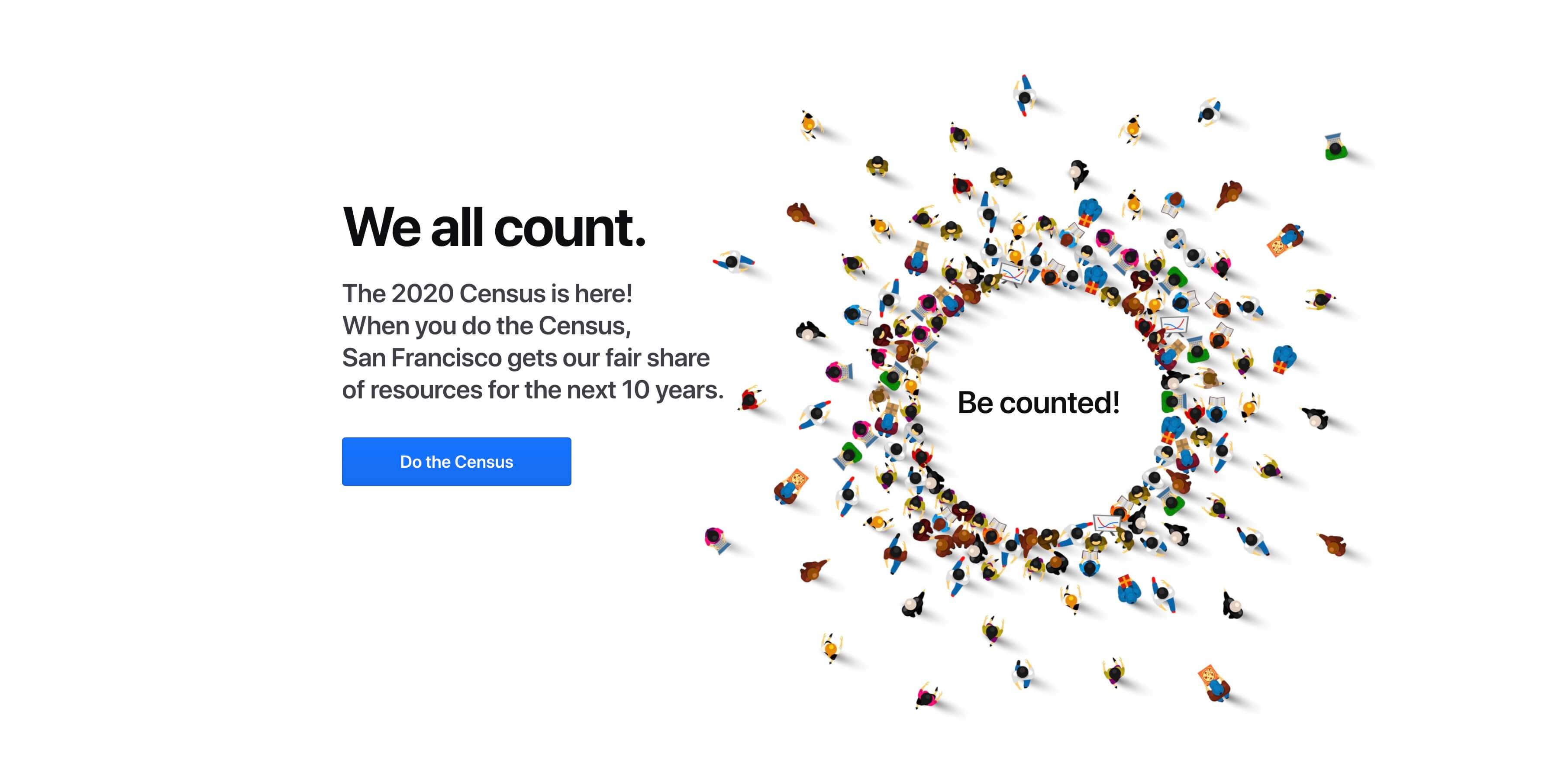 The hero section of the homepage.
The design
I went through 3 cycles of the design. I started first with wireframing the different sections and pages of the website.
Each cycle of the design removed unnecessary elements, eliminated distractions, and made the design feel more calm and inviting.
White space is designers' best friend
A key element to good design is the strategic use of white space. Intentional white space helps bring a sense of calm, directing users' attention to the important content.
Connecting visitors to the service
The easiest way to do the Census is online. However, some San Francisco residents have questions or need extra support doing their Census from a trusted community partner. I created a service directory map that lists all Census Help Centers in San Francisco. This directory highlights local organizations, the language support they offer, their contact information, and drop-in Census help hours. There are also special filters like "accessibility" included.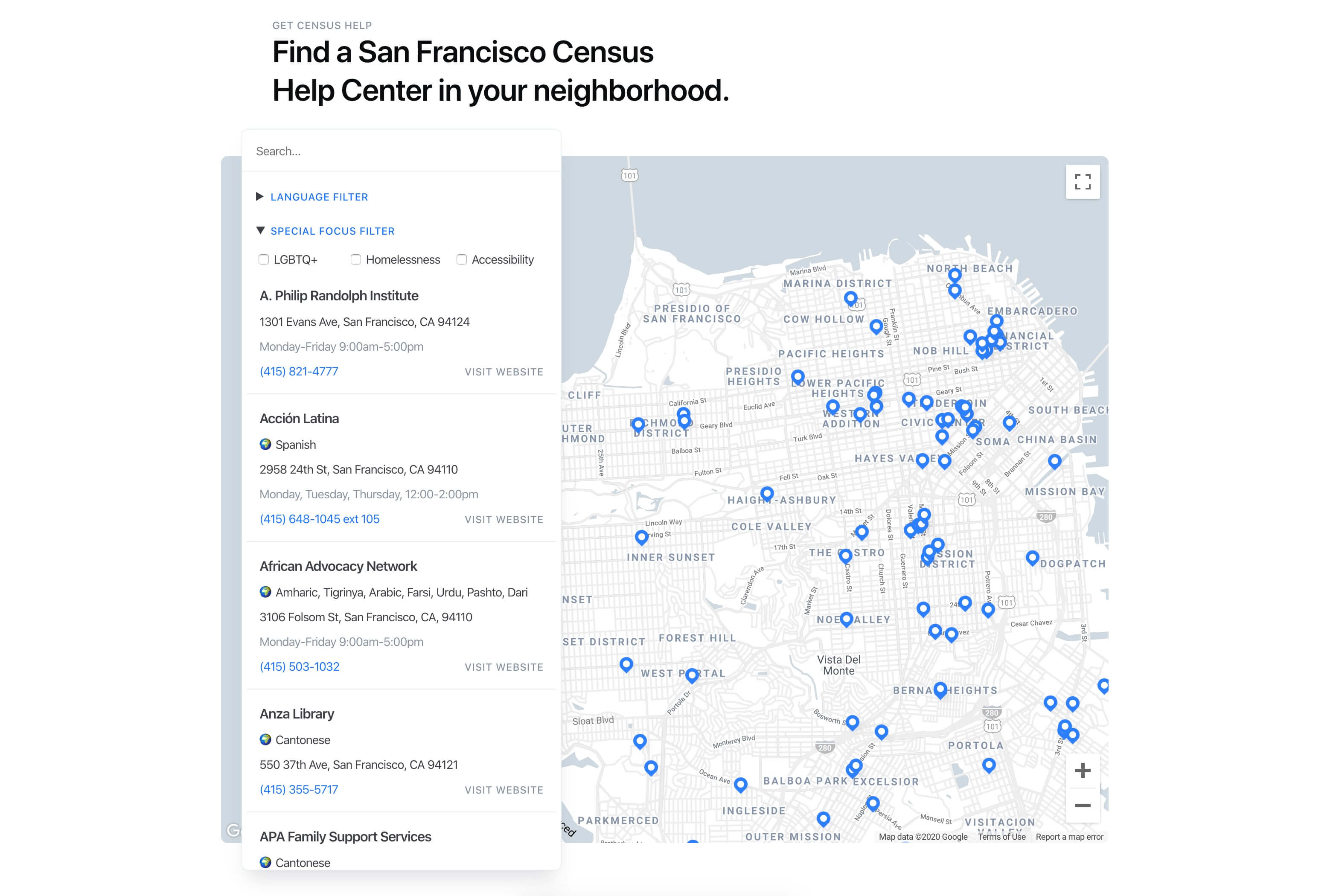 The map of San Francisco showing Census Help Centers locations.
Two months from inception to launch
To be as efficient as possible, I worked in parallel as the content was being created and other important parts of the site were being discussed by the project team. It was a very agile process, as I was working with the project manager directly.
In the initial stages, I set up a staging version of the site so I was able to iterate quickly and get quality feedback in real time.
The majority of the work was completed prior to the national launch of the Census. I continue to support the website with content and service provider updates, as needed. So far, the website has served its purpose of connecting San Francisco residents with the Census help from trusted community partners, as well as provided accurate information. The City is quite happy with the results, and has gained positive attention regionally for the service directory map tool.
Home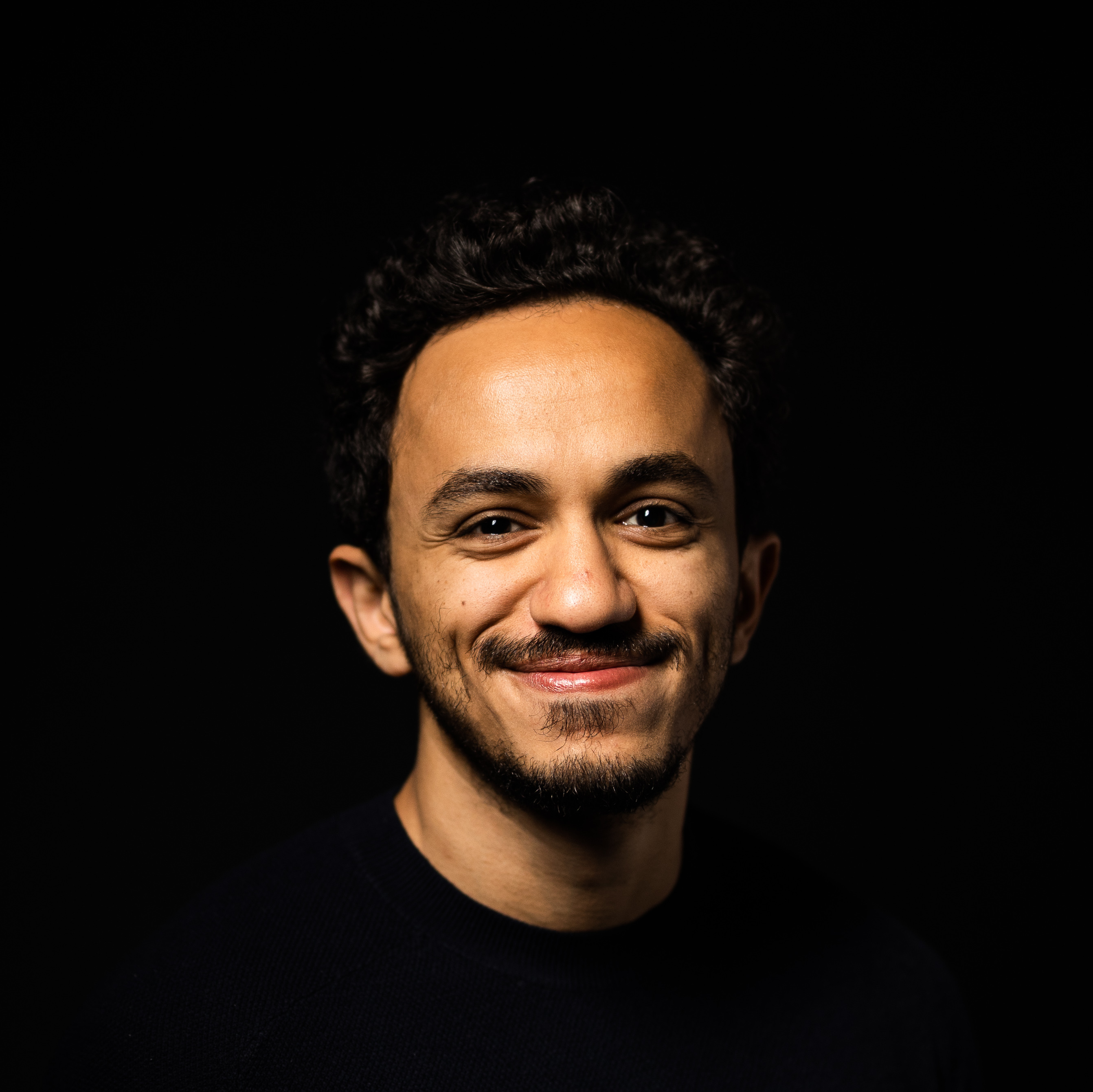 © Emad Abdulrahim